by Andy O'Connor
3 min read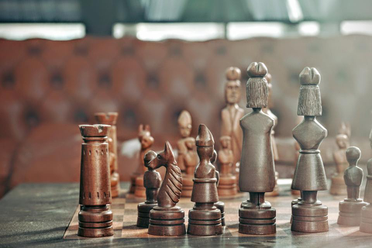 ---
Pierre is a French knight from 1096. An urgent message is required for the king, and Pierre nobly volunteers. Along the way is a varied and treacherous landscape which Pierre must navigate, and so Pierre prepares. It is a long way to go, so Pierre gets a horse. There may be bandits, so Pierre gets his sword. After many preparations and feeling adequately prepared, Pierre begins on his journey.
Just like Pierre, there are many skills, tools and preparations entrepreneurs require as they begin their first foray into setting up a startup. There is a whole startup landscape out there for you to navigate, for which you will need personal skills like motivation, perseverance, decision making. Also, an understanding of lean principles, the importance of sales, along with a damn good idea to carry along the way. This is known as the 'stand-up' phase of a startup. Just like Pierre, you would do well to build a certain set of skills but eventually you must just start out on the journey.
The Way
However, along the way Pierre starts encountering problems he must overcome to deliver the message to the king. The horse becomes lame, so he has to walk to the nearby village. He runs out of food, and must hunt. Pierre the french knight is a collection of problems; and so are you. 
Just like Pierre

, as soon as the journey begins, entrepreneurs start encountering problems. You present your idea to an incubator, and they want to see a business model canvas. You need to identify a market and validate your idea against it somehow. Issues are encountered during product development. What is product-market fit, anyway? Sales, accounting, the list goes on. Just like Pierre, entrepreneurs are a collection of problems.
Opportunity
As Pierre travels onward towards his destination, he encounters many opportunities that claim to assist him on his journey. At the stables, horseshoes are discussed at length. The general store has a selection of oddities for all manner of scenarios, and an old lady along the way persists that he needs a rabbit's foot to ward away evil spirits in the upcoming forest. A man in the tavern offers lessons to hone his archery skills. He must be vigilant to the goal at hand, and not get distracted along the way. Pierre considers, but does not accept the Archery lessons, as this will not help deliver the message to the king before the message gets outdated. Instead, he decides to focus on the problem at hand and continue the journey. 
Just like Pierre,

 you must tackle the problems you encounter on your journey one at a time. Workshops, Conferences, Speakers and Startup events can be very useful along the way. Speakers have stories that solve specific problems, and networking provides nuggets of information and oppotunities for a wide variety of problems. However, its easy to get lost jostling with fellow entrepreneurs, and listen to a whirlwind of advice for a problem you do not yet have. The advice that speakers provide is rarely the solution to your next problem. 
If you go to the next startup conference, be like Pierre and be focused on the next problem at hand to achieving your mission. Learning how to make investor pitches is not useful if your next hurdle on your journey is to develop your startup idea. Go to speakers that are only useful to your current problem; if there are none, then targeted networking is more useful for you.
Targeted Networking
When Pierre goes to the Tavern, he spots an englishman. He imagines that the englishman has all manner of exciting stories from a foreign land. He is, however, going to Paris, so instead he targets other travellers coming from the opposite direction as he. 
Just like Pierre,

you need to target your networking to the problem at hand. It does not take a startup guru to solve your next problem. Fellow adventurers are more likely to have experienced a problem most similar to yours, so instead you need to find a way to talk about

their

journey. It shouldn't be that hard.
Remember, also that Pierre is a knight, and when he meets people on his journey he warns them of the previous peril he has just overcome on the path, and helps where he can. His chivalry is known across the land. 
Just like Pierre,

You too have just overcome specific real-world problems, and you now have a "very specific set of skills". Provide advice on the last problem you solved and you too can feel chivalrous and be favourably known - like Pierre. 
Final Advice
I recommend this one simple task before you go to your next startup conference. Write on your name badge the last problem you solved and the next problem you have now:
"Pierre - Just solved the problem of goblins and now on to the problem of the forest of Mirkwood"
It will help focus you on your journey and target your networking. If you see another doing the same, starting your advice with "Just like Pierre" will be a talking point if nothing else!
Or, better yet, download our custom label -->
Targeted Networking Badge
Google doc with 8 stickers per page: https://drive.google.com/open?id=1mBlw_4eeeYmgfQkWsZ_J7vWDmoGcUeUitQX9QoKIeWQ